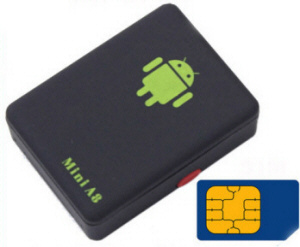 Hot Sale Mini A8 LBS Tracker Locator Global Real Time Car Kids Pet GSM / GPRS / LBS Tracking Power adapter NO GPS Tracker
Description:
This product is used the Taiwan's newest technology, which has the advantages of small and exquisite volume, clear voice, long standby duration, simple operation, stable performance, easy installation and so on.
It is mainly used for home monitoring; children, old people, pet supervision monitoring; car, warehouse security tracking etc.
Specification:
● Use SIM card (Not included)
● Sound control dialing
● Environmental surveillance
● LBS Positioning(this function will only work in following countries:(China, Thailand, Spain, Russia, Arabia, Portugal, Vietnam, Indonesia, India, Pakistan, Bangladesh)
● SOS Emergency Call
● Real Time 4 bands GSM/GPRS
● VOX Back Call
● 12 days standby time
Note:
Need to use GSM card and support GPRS.
Instruction:
1. Power on: open the back cover, put the SIM card into the seats, then it is automatically power on. When booting, indicator will light for 10 seconds, after the indicator is off, cover the back cover then it can be used.
2. Environmental monitoring: starting up normally, dial alarm number, it will be easy to hear the situation within 10 miters around the machine after waiting for five seconds.
3. Sound control dialing: use mobile phones or fixed-line to get through SIM card number in the alarm, hang up the machine when hearing the sound of the machine about 3 seconds, and that means it sets up successfully. When there is a sound above 45 db within 10 miters around the alarm, the call will be automatically make call number which you set before.
4. Send 0000 SMS to turn off sound control function.
5. Send 1111 SMS to turn on sound control function.
6. LBS positioning: please directly edit capital letters"DW" SMS to the alarm in China,and on aboard please edit capital letters "GPS"to the alarm,The alarm will revert a message including the information about addresses/longitude and latitude/web site content in a minute.
7. SOS Emergency call:Edit the content of messages capital letters"SOS"to alarm, directly press the key SOS above three seconds after the success of seting, the alarm will directly call the seting number. And the indicator will flash.
Notice:
• Before using the new machine should be filled with electricity, in order to achieve the best effect.
• The charger papameters: 5.0V, 500 MA, in order to avoid damage the host.
• When installing, please pay attention to GSM network signal strength, do not install in no signal or weak signal of place, so as not to affect the use effect.
• When ran out of battery ,the indicator light is not bright, So please charging before use.
• When you couldn't get through the phone, please re-inserting the card and booting or charging again then re-test.
• When could not be automatic answer, please re-inserting the card and booting.
• When could not reply the message, please check whether the sim card have to owe a fee, or check whether the sim card is filled with text messages, then try it again.
• This product is forbidden for illegal purposes, Otherwise your peril.
Parameters:
Size: 43.2 x 32 x 13.6 mm
Weight: 30g
Connection: GSM / GPRS
GSM Frequency: 850/900/1800/1900 MHz
Charger Input: AC110-220V 50/60 Hz
Charger Output: DC5V 500mA
Battery: Rechargeable battery 3.7V 500mA Li-ion battery
Storage Temperature: -40 to 80 degrees
Working Temperature: -20 to 55 degrees
Hunidity: 5%-95% non-condensing