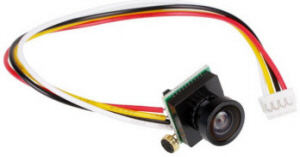 Quick Overview
The Lumenier SM-600 Super Mini - 600TVL Wide Angle Camera - Micro sized for small aircraft
Details
This is a super small camera (12.5x12.5x17mm) weighing in at only 3 grams, yet still delivering an excellent FPV picture at 600tvl.
The 120 degree FOV gives you a super-wide and full forward view, while supporting an input voltage of 3.3-5v (1s Lipo) making it perfect for micro 1s setups.
The camera has an imbeded mic making it easy to send audio via a A/V transmitter.
Use this camera in aircraft where size and weight is important, perfect for small multi-rotors, airplanes and even RC cars.
Specifications
Sensor: Single chip 1/4 CMOS
System: NTSC
Pixels: NTSC:648 (H)×488(V)
Image Signal Proccess: Digital Signal Processing System
Sensor Dimension: 3.59mm(H)×2.70mm(V)
Horizontal Resolutions: Approximately 600TV Lines
Sensitivity: 0.1Lux/F1.2
Lens & View Angle: 1.8mm F1.2/120 °
S/N Ratio: 48dB
Electronic Shutter: NTSC(1/50 S TO 1/100000)S
Auto Gain Control: AUTO
White Balance Control: AUTO
Back Light Compensation: AUTO
Microphone: Built into camera
Video Out: 1.0V p-p/75ohm
Size (L x W x H): 12.5x12.5x17mm
Weight: 3g
Working Current: 50mA
Power Requirement: DC 3.6V-5V (over 5v will damage the camera)
Operating Temperature: - 10° C ~ +50°C ,less than 90% RH
Connection: Red - Vin, Black - Ground, Yellow - Video Signal, White - Audio