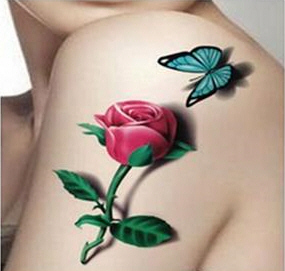 Temporary 3D Butterfly Flower Rose Tattoo Sticker Decal Ladies Body Art
Features:
● This tattoo sticker is perfect for creating your own style temporary removable tattoos.

● It looks great on any skin type (may not be suitable for highly sensitive skin types).

● The paper is easy to use and easy to remove from your skin.
Description:
Item Type: 3D Rose and butterfly Temporary Tattoo
Size: About 19*9 cm
Tattoos Application:
1. Clean and dry the skin completely.
2. Cut out the design of your choice and remove the film.
3. Tattoo face down on skin.
4. Rub and wet the tattoo completely with damp cloth or sponge.
5. Peel the corner of the Tattoo gently to check if it has transferred. If not, press down and wet again.
6. Your Tattoo can last for several days if transferred carefully.
7. Rubbing cold cream or baby oil will remove the Tattoo instantly.