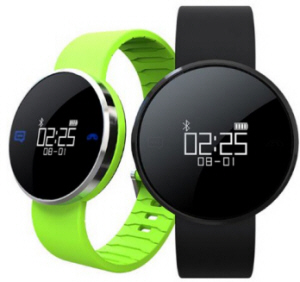 UW1S Waterproof IP67 Smart Bracelet Heart Rate Call SMS Remind Hand Raise Light Up Smart Watch
• Dynamic heartrate
• IP67 Waterproof
• Blood Pressure Detect
• Real-time pedometer
• Call reminder
• Calorie consumption
IP67 Waterproof
Skillful design and rigorous craft achieved its IP67 standard of waterproof and dustproof. Easily cope with daily wash, sweat raindrop, and dust.
Beauty of simplicity
Stainless steel case. CNC elaborate crafted. White Luminescent screen, combined with profound black face, economize in visual and reveal the beauty of simplicity.
Real-time pedometer
The bracelet real-time record the steps. Calories Burnt. Distance movement and every accurate motion.
Keep Young and Energetic.
Colorful band for option, fulfilled the life in Youth and Vigor.
Sleep monitoring.
Comfortable to wear when in steep, accurately monitor the sleep quality in real-time, attentive alarm to wake you up softly.
Blood Pressure Detect
Built in Optical blood pressure sensor, get known the health index in every moment, keep your family away from "Three Highs" (Keep relax and hold still when detecting, the test report will be more accurate if keep the wrist same height with the heart)
Raise light screens
Arms drooping naturally, raise the arm and keep flat with the Chest, flip the back of hands at the sametime to light up the screen, the screen may not be light if the entire raise action incoherent.
Heart Rate Monitor
Dynamic heartrate. real-time monitor Built in PPG heartrate sensor to monitor the heartbeat frequency precisely. Automatic detecting every 30 mins, guard your health in 24 hours in all weather.
Sedentary reminder
Need to set the sedentary time on the mobile APP, it will remind you to go for excise by vibration when the time's up.
Call Reminder
The bracelet will vibrate to remind while there is an incoming call or message, the call and SMS icons on the two sides will shining blue light for reminder, never miss any calls.
Translucent Mirror
Love beauty is the nature of female, who will take care of their makeup when date or dine, the bracelet screen can act like a mirror for the female when they messed up, thus make it more convenient and practical.
Past Charging and durable
Absorption charging stand, easy to pull-in. Charge one hour can work for 7~10 day, with 38 days long standby time.
Realtime Sync Data analysis
Download the APP by scan the QR code on the manual, after the bracelet connected with APP by bluetooth, the record on the bracelet will sync to the phone and analysis the data comprehensively.
Specification
Model: UW1S
CPU: NRF51822
RAM/ROM: 256K/32K
Bluetooth Version: BT4.0
Screen Type: 0.66 Inch OLED
Screen Resolution: 64*48 Pixel
Operating Method: Key Operation
Compatibiltiy: IOS 8.0 and above, Android 4.3 or above smart phone
APP: FunDo Smart Device
Language: Chinese, English
Waterproof Rating: IP67(Sweat, Small raindrops not afraid, But don't flush, Bubble water, Bathing, etc.)
Battery Type: Lithium-polymer
Battery Capacity: 3.7V/110mAh
Working Time: 7~10 Days
Standby Time: 38 Days
Available Color: Black, Blue, Green
Dial Shape: Round
Strap Material: TPU
Dial Diameter: 37mm
Strap Width: 20mm
Strap Length: 250mm
Product weight: 46.8g
Package Include: 1 X UW1S Smart Bracelet; 1 X USB Cable; 1 X Manual (English)