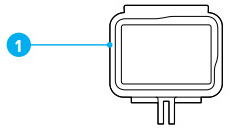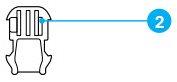 1. The Frame
2. Mounting Buckle
3. Thumb Screw
4. Curved + Flat Adhesive Mounts
THE FRAME
The Frame (for HERO6 Black/HERO5 Black) provides additional protection for your camera if you drop it, so you might want to keep it in The Frame during certain activities, even if the camera is not mounted.
HERO6 Black is waterproof to 33' (10m) with the doors closed — no additional housing is needed when using the camera in or around water.
NOTICE: The Frame does not provide additional waterproof protection.
PRO TIP: During water activities, use a camera tether for added security and use a Floaty to keep your camera afloat (both sold separately). For more information, visit gopro.com.
ATTACHING YOUR CAMERA TO MOUNTS
To attach your camera to a mount, you need The Frame (for HERO6 Black/HERO5 Black) and a mounting buckle and/or thumb screw, depending on the mount you are using.
1. Secure the camera in The Frame:
a. Open the latch.
b. Slide the camera into the frame. The bottom front of The Frame has a raised edge. Be sure the front of the camera sits flush against it.
c. Close the door.
d. Lock the latch.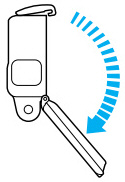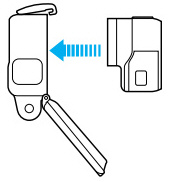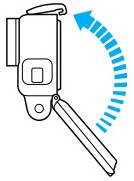 2. Attach The Frame to the mounting buckle.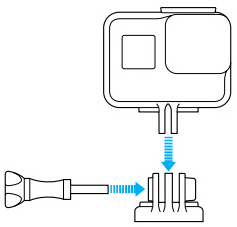 3. Follow the Mounting Guidelines to attach an adhesive mount to a surface.
4. Attach the mounting buckle to the mount:
a. Flip up the mounting buckle plug.
b. Slide the buckle into the mount until it clicks into place.
c. Press down on the plug so that it sits flush with the buckle.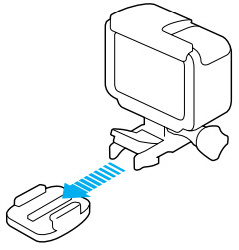 PRO TIP: If you mount your HERO6 Black upside down, the camera automatically changes the orientation of your image to be right-side up. For more information, see Auto-Rotation (page 24).
MOUNTING GUIDELINES
Follow these guidelines when attaching adhesive mounts to curved and flat surfaces of helmets, vehicles, and gear:
• Attach the adhesive mounts at least 24 hours before use.
• Adhesive mounts must be mounted only on smooth surfaces. Porous or textured surfaces do not enable a proper bond. When applying the mount, firmly press it into place and ensure full contact over the entire surface.
• Apply adhesive mounts only to clean, dry surfaces. Wax, oil, dirt or other debris reduce adhesion, which can result in a weak bond and risk of losing the camera should the connection fail.
• Attach adhesive mounts in room temperature conditions. Adhesives do not bond properly if applied in cold or damp environments to cold or damp surfaces.
• Check state and local regulations and laws to ensure that attaching a camera to equipment (such as hunting equipment) is permitted. Always comply with regulations that restrict the use of consumer electronics or cameras.
• During water activities, use a camera tether and Floaty (both sold separately) for added security to keep your camera afloat.