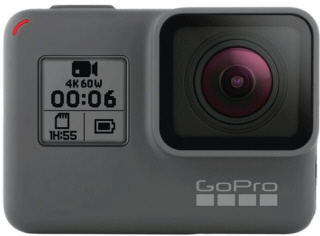 Twice the performance.
With its all-new GP1 chip, HERO6 Black delivers 2x the performance of HERO5 and our best image quality yet.
Slo-mo pro.
4K60 and 1080p240 video enable stunning slow-motion playback of your highlights.
Buttery smooth.
Capture super smooth footage with our most advanced image stabilization ever.
Night life.
Get busy after dark with impressive low-light performance and night photo modes.
Touch zoom. Boom.
Get closer to the action just by touching the screen.
Swim naked.
Go for it. HERO6 Black is waterproof without a housing down to 33ft (10m).
"GoPro, start recording."
Take hands-free control of your GoPro using simple voice commands.
Quik stories
Get the shot then kick back as your footage moves to the GoPro app and transforms into an awesome video—automatically.*
*QuikStories requires a HERO6, HERO5 or HERO camera and the GoPro and Quik mobile apps. To create a QuikStory, your camera must be connected to the GoPro app.
Wear it. Mount it. Love it.
HERO6 Black is compatible with 30+ accessories that help you capture your passions in an all-new way.
Advanced Features
4K VIDEO / 12MP PHOTO
Stunning 4K video and 12MP photos in Single, Burst and Time Lapse modes.
RAW / HDR PHOTO
RAW photos provide the most flexibility when using advanced photo editing software. HDR Photo mode captures added details in the shadows and highlights of a scene.
EXPOSURE CONTROL
Fine-tune exposure settings with simple on-screen Exposure Control.
STEREO AUDIO
Advanced audio processing captures left and right stereo audio channels.
GPS
Captures your speed, GPS path, elevation gain and more. QuikStories uses this info to optimize your videos and lets you add a speedometer overlay.*
*QuikStories requires a HERO6, HERO5 or HERO camera and the GoPro and Quik mobile apps. To create a QuikStory, your camera must be connected to the GoPro app.
FEATURES
Key Features
• Photo - 12MP / 30 fps Burst
• Video - 4K60
• Waterproof - 33ft (10m)
• Voice Control
• Wake on Voice - Use voice commands to turn on your GoPro or start recording (lasts 8 hours after powering off).
• Video Stabilization - Advanced
• Touch Display
• QuikStories - Automatically moves footage from your GoPro to your phone and transforms it into awesome videos.
• GP1 Chip - GoPro-designed chip made to deliver next-level image quality and stabilization.
• Karma Compatible
• Fast Charging - 20 to 70% faster charging with Supercharger compared to conventional USB-C chargers.
Advanced Settings
• HDR Photo Capture - Captures multiple images of varying exposures and combines them into a single properly exposed photo.
• Touch Zoom - Set up the shot by adjusting how close or far away the subject appears in your video or photo. Not available while recording.
• Auto Low Light
• Exposure Control - Select an area that you want the camera to prioritize when determining exposure.
• Protune - Lets you manually control color, white balance, shutter speed and more.
• 3.5mm Audio Mic In
Audio Features
• Advanced Wind Noise Reduction - 3-mic processing
• Stereo Audio
• RAW Audio Capture - .wav format. Creates a separate .wav file for your video, in addition to the standard .mp4 audio track.
Connected Features
• Wi-Fi + Bluetooth®
• 5GHz Wi-Fi for Offload to Phone - Offload content to your phone 2 to 3x faster than when using a standard 2.4 GHz band.
• Auto Upload to Cloud - With GoPro Plus subscription
• GPS - Captures the location where your photos and videos are shot.
• Connects to GoPro App
• HDMI Video Out - With Micro HDMI Cable. Lets you connect your GoPro to an HDTV for viewing on a big screen.