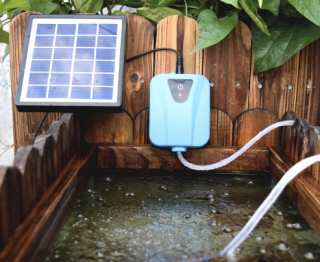 The solar oxygenator is an ingenious air pump suitable for aquarium, small or medium ponds, etc. Working via solar power this air pump oxygenates pond water in sunny weather when oxygen levels are depleted. Simple to install, no wiring needed.
Features:
AC/DC oxygen pump, using copper movement, built-in high-quality lithium battery.
With a small size, low noise, large air volume, durable for use.
Adopts advanced single-chip intelligent control.
Constant voltage/current charging, over charge and over discharge protection, low battery alarm.
Widely used for a variety of ornamental fish, aquarium, company aquarium, small ponds.
Especially great for power outage emergency, as well as oxygen pump for wild fishing, small amounts of aquatic transport.
User Manual
Operation
- Long press the power button for 3s, the blue LED is NO, it starts to continueoxygenation
- Then short press the power button, it starts tocycle mode:supply oxygen for 8s and stop for 2s.
- It needs to charge when the LED light is red and flashing. It support charging and working simultaneously.
Note
- Solar panel must be located in where can receive maximumsunlight directly
- Solar panel cannot be installed in the water, interior or under the tree
- Clean the solar panel regularly
- Working effect will be influenced by the weather, seasons and place
Specifications
- Solar Panel: 6V 1,5W
- Input: DC5V/1A
- Power: 0.5W
- Air Pressure: 0.15mpa
- Air Rate: 2L/M
- Battery: 18650 3.7V 3600mAh
- USB Charging Time: 3-5 Hours
- Working Time: Approx. 24 Hours
- Tube Length: Approx. 1.3m
- Outlet: 4.45mm
- Power Cable: Approx. 3m
- Material: ABS
- Product Size: Solar Panel: 14*13*1.6cm / Air Pump: 8*10.5*3.5cm
- Product Weight: Solar Panel: 200g / Air Pump: 210g